Greetings from Vytautas Magnus University, Lithuania.
We would like to share with you great news - this summer we will be organising Lithuanian language and culture summer course 2023!
We are very happy to share that the Lithuanian Education Exchanges Support Foundation has announced the call for students, lecturers and researchers from foreign countries (category 1) AND foreigners of Lithuanian origin (category 2) to attend the Lithuanian language and culture course at Vytautas Magnus University and get the tuition waiver (for online course) and scholarship (for contact course).
A little bit of information about the course:
Place: Kaunas, Vilnius or online.
Course duration: from 08-07-2023 to 06-08-2023 (30 days).
Credits: 8 ECTS.
Entry level: Lithuanian knowledge from no background to C1.
Selection criteria for the candidates: Motivation (1) and Recommendation (2)
Extra points for participants who: Apply for the first time/ study the Lithuanian language, history and culture in their home country (in)formally and officially / are from Taiwan or Ukraine.
If a person does not meet the criteria for a scholarship, he/she may be entitled to a discount, therefore, we have many different options!
Registration for the tuition waiver and scholarship is open until April 20, 2023 through our APPLICATION SYSTEM.
For paying students registration is open until May 31. Register here.
Social media channels: Facebook, Instagram.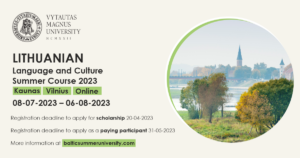 Should you require any information, email us at bsu@vdu.lt
Best regards,
Organisers
Putvinskio g. 23, 2nd floor (visiting address)
Donelaicio g. 58, LT-44248 Kaunas, Lithuania (postal address)
Phone: +370 37 327 988
E-mail: erasmus@vdu.lt