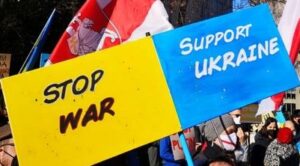 The Department of Northern European and the Baltic Languages SNEB at the Johannes Gutenberg University Mainz hereby unequivocally condemns Russia's attack on Ukraine and the disinformation spread by Putin's regime to justify the attack.
We stand firmly on the side of the Ukrainians and all those Russian citizens and everyone else who does not want this war and sees and condemns its injustice.
We hereby also express our solidarity with the academic institutions whose work is being affected by the aggression of Putin and his supporters.
We feel compelled to speak out because it is the mission of our institute, and our mission as humanists, to contribute to the maintenance and building of peace among multilingual and culturally diverse peoples, to enable and promote collaboration, and to protect and promote linguistic, cultural, and societal diversity.
Every single instance that publicly condemns Putin's actions and speaks out openly against him helps bring Europe one step closer to restoring the peace that reigned since the end of the Cold War until Thursday, February 24th, 2022.
Слава Україні!
Glory to Ukraine! Glory to all the people who are now not keeping silent but are openly standing with the Ukrainians in their brave defence of their country and the democratic and peaceful world order!